Everything you need to improve schedule quality and team productivity.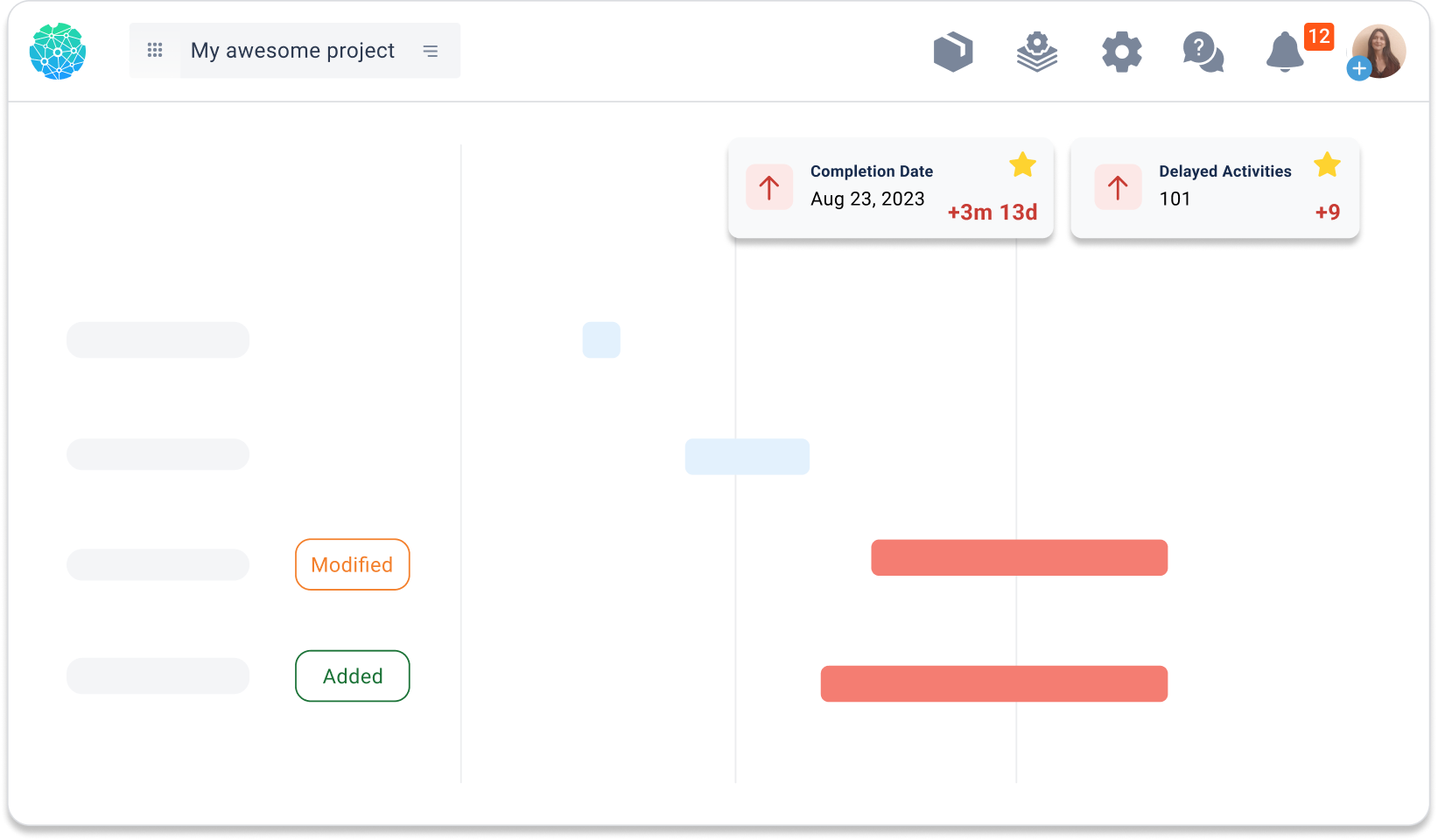 Supports
TRUSTED BY INDUSTRY LEADERS
PLANNERS
PROJECT MANAGERS
CLIENTS
PLANNERS
Improve schedule quality and tracking
From bird's eye views to drilldowns, one click away.
Planners
Ensure quality schedules using industry standard checks. See and share progress against the baseline, along with critical and near-critical paths. Rely on legacy software and spreadsheets as much or as little as you want.
PROJECT MANAGERS
CLIENTS
Features that make this possible
CO2
Management
Pinpoint the biggest contributor of carbon, at a WBS or activity level. Get the breakdown between materials and equipment. All in a simple, interactive way.
Find paths and
easily share them
See the critical and near-critical paths that drive the delivery of any activity, fast and easy. Easily export gantt views of the data and share them in your report.
Team
Alignment
Ensure everyone is on the same page by easily inviting them to the platform, for free*. Use advanced user permissions and teams to ensure everyone has the correct level of access.
Use your data the
way you want
Easily switch between WBS and Activity Codes to track progress the way you want. You can also switch between activity count and duration based progress measures.
Output that works
with your flow
Export clean and consistent .csv files for further manipulation in MS Excel and other dashboard tools.
Trend
Analysis
Avoid surprises by spotting trends and deviations from the plan quickly. Select up to 20 activities or milestones and track them across the schedule. Export and share the data with one click.
Get on the platform instantly through the website and
start getting value in minutes.
Select your plan
Pick the plan and tier that works for you, across free and paid options.
Number of users
Choose the number of seats you want. If you choose a paid plan, we will also ask for your payment details.
Your are done!
You are now ready to upload your first schedule! Use the log in details in your inbox, and start getting value in minutes!
Getting started with Nodes & Links
Plan your enterprise roll out with our experts ready to help you
assess, communicate and deploy Nodes & Links.
Live Demo
Book a live tour of Nodes & Links and how it would work for your team.
Guided Setup
Our team will walk you through everything you need to plan a successful roll out, from set up and support to custom integrations.
Go Live
Your dedicated Customer Success team will help you and your team to become experts, fast.
COMPARE
HEALTH
PROGRESS
TEAM
COMPARE
See the impact of change
on the critical path
See what activities and milestones have been removed or added, and how that impacts your critical path and other KPIs.
HEALTH
PROGRESS
TEAM
Welcome to the
21st Century
Elevate your team from processing data
to creating knowledge
Before
After